Our Volunteer Lifesavers patrol Mooloolaba Main Beach from September until May, keeping our beautiful beach safe for our Mooloolaba Community.

We ask that you please keep safe and always swim between the Red and Yellow Flags.
Our volunteer Patrol services operate on Mooloolaba Beach as follows:
September – May
Weekends & Public Holidays
7.00am – 5.00pm
Over peak summer (Mid December to End January), patrol hours are extended from 7.00am – 6.00pm
Mid Week & Off-Season:
Surf Life Saving QLD and Sunshine Coast Council Lifeguard Services provide patrolling services ensuring our beach is safe 365 days of the year.
To report an emergency, dial triple-zero (000)
RED AND YELLOW PATROL UNIFORM
All our qualified volunteer Surf Lifesavers proudly wear the internationally recognised red and yellow patrol uniforms so they are easily identified by the public and when we are performing patrol duties.
Each of our Volunteer Lifesaving members hold the minimum requirement of a Bronze Medallion.   This award teaches a range of activities in order to be able to perform all the basic requirements of a lifesaver including:
Safety and wellbeing, 

Surf awareness and skills,

Anatomy and physiology,

First aid,

Resuscitation (CPR),

Communications, 

Radio communications, 

Rescue techniques, 

Carries and Support,

Patrol methods.
Rescue Equipment our  personnel utilise includes a wide variety of equipment to assist in patrolling our beach to accommodate different surf environments, and its many hazards.

Please come and say hi if you see our volunteer members on Mooloolaba Beach!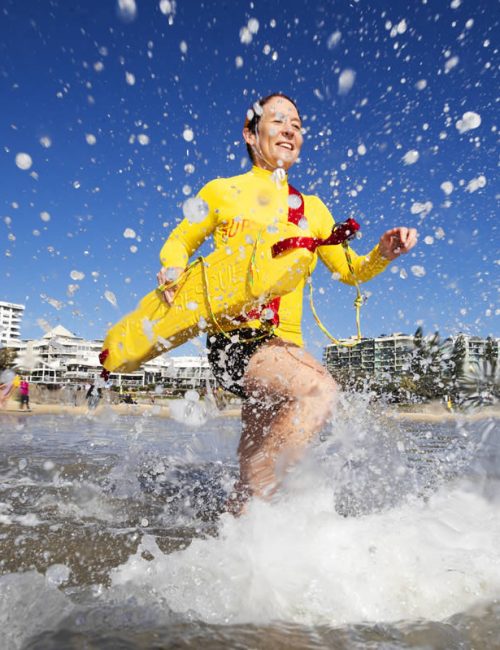 If you are interested and would like to know more about joining Mooloolaba Surf Life Saving Club as a patrolling member, please e-mail our Club Administration office, or visit the Education & Training section of our website to register your interest for a Bronze Medallion Course.
We would love to welcome you as a new member to our Club!
Once qualified, our members join a Patrol Team for the season and participate on a roster basis across nominated weekends and public holidays.